Unlike most other similar tools, MATHTRAK is not an add-on to the Mathematics done daily in the classroom.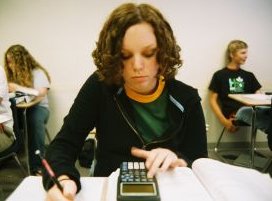 The school customises MATHTRAK to suit its Mathematics programme. Used effectively, MATHTRAK's data-rich, automated tools can make personalised instruction a visible, practical reality in the modern classroom. Many of the time-consuming steps in the learning cycle are completed automatically:- with a few clicks of the mouse a test is created; the students go online to complete the test which is immediately marked and feedback provided; the student views the lessons to remediate any missed questions; the teacher accesses the class results page to view a ranked table of results; students can regularly resit the test until mastery is achieved and for revision; the teacher (and parent) can monitor each students progress. MATHTRAK builds a snapshot of the student as a learner and gives individualised advice about effective classroom and study skills. In addition, the teacher can monitor the student's attempts to improve their automaticity with number skills on an online game and their progress on a comprehensive Problem Solving Tutorial from Year 5 to Year 12.


After the school has customised MATHTRAK to match its coursework, students (and carers) can go online (at school, home, anywhere with the appropriate technology) to:
print out a copy of the school's coursework.
complete tests that have been designed by the school.
get immediate feedback on their performance on the tests.
view and printout their progress on these tests.
identify any strengths and weaknesses from these tests.
obtain feedback about how to improve their test results.
obtain advice about how to improve their class and study skills.
view interactive lessons that teach step-by-step each of the key concepts.
practise and establish automaticity with essential number skills in a game environment.
revise previously covered coursework.
check progress with and improve on the key concepts in the National Curriculum.
develop mathematical problem solving skills.